Home Page
Announcements
Standard 90.4-2019 -- Energy Standard for Data Centers
There's One Data Center for Every 100 People in the United S...
Read More
Utah lawmakers adopt 2018 I-Codes
In February 2019 Utah lawmakers adopted the 2018 I-Codes (ex...
Read More
Utah Legislature Updates Commercial Energy Code
ATLANTA (Mar. 1, 2019) – ASHRAE announced t...
Read More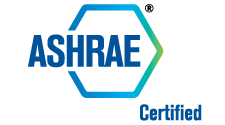 ASHRAE certification programs were founded to meet industry need and today provide value to 1,000s of built-environment professionals, employers and building owners. For the past 100+ years ASHRAE has worked hard to earn and maintain a worldwide reputation for being the leader in HVAC&R design. ASHRAE certification programs serve to reinforce that reputation.
The Building Commissioning Professional (BCxP) and Building Energy Assessment Professional (BEAP) certifications have been recognized by the U.S. Department of Energy (DOE) as meeting the Better Buildings Workforce Guidelines (BBWG). DOE recognition of these two ASHRAE certification programs positions the employers of BCxPs and BEAPs to compete for federal, state and local government body contracts calling for the services provided by these certified professionals.
Enhancing ASHRAE's reputation for quality certification programs, the following are ANSI-Accredited Personnel Certification Programs – under ISO/IEC 17024 (#1139):
Building Commissioning Professional BCxP)
Building Energy Assessment Professional (BEAP)
Building Energy Modeling Professional (BEMP)
High-Performance Building Design Professional (HBDP)
For more information on receiving an ASHRAE Certification follow this link, https://www.ashrae.org/professional-development/ashrae-certification
Member Area Login
Please click below to be taken to the Member Login screen.
Not a member yet? Click here to join